"It gives you an 'I can do that' attitude when you see another girl that can. Great experience, great group, great setting!"
Helen Hall, climbing clinic

Ski the Rondane, Norway
5-13th March, 2011
£1,095

This seven day, cabin to cabin tour starts in western Rondane at Høvringen, southwards through this wonderfully varied area and finally to the Ringebu mountains. The route is nowhere steep, although there will be an opportunity to climb a spectacular 2,000 metre peak while staying an extra night at Rondvassbu.
Accommodation is in DNT-lodges, hotels and self-service cabins.

ITINERARY
Saturday 5th: Take the train to Hovringen Skiskole and get there in time to sort skis and maybe have a quick lesson or two and practise before tea time. We will go through kit and thin out any extras to be left behind.

Sunday 6th: Høvringen to Smuksjøseter (1130m), 7km. As this is a shorter day, there will be plenty of time to get training & top tips from Tania.

Monday 7th: Smuksjøseter - Rondvassbu (1173 m), 16 km. Two nights beneath the beautiful peaks of Rondane.

Tuesday 8th: Day trip from Rondvassbu to one of the peaks.

Wednesday 9th: Rondvassbu - Rondablikk, via lake crossing and Furusjøen (852m) 21km.

Thursday 10th: Rondablikk - Eldåbu (1005m), by an ascent through a birch forest and out to open mountains, 20km.

Friday 11th: Eldåbu - Venabu (930m), 18km.

Saturday 12th: Return to Oslo.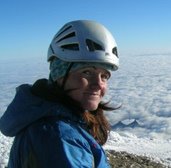 This ski adventure is a pilot course we are running this year. It will be led by Tania Noakes (MIC, BASI Nordi Ski Teacher & currently training to be a UIAGM International Guide) who has worked on a number of our clinics since 2003.

Tania has enormous experience & love for skiing, if you want to read more about her, visit her site here.



WHAT'S INCLUDED
guiding & instruction by Tania Noakes
accommodation
all meals (first day - supper only, last day - breakfast only)


The cheapest flights to Oslo are usually with Norwegian.com, who fly from Edinburgh & Gatwick for about £85 currently (October 2010). Skyscanner is a good site for getting an overview of all flights available, including indirect flights from all over country. There are several Oslo airports, some of which have more than one name. Oslo Gardermoen is the desired airport as it links with the train station to the start of our tour.

To join this adventure and get access to the amazing hut system it is necessary to join the Norwegian Trekking Association ('DNT'). This currently costs about £57, £44 for seniors and £ £32 for students. The many membership benefits include a magasine, gear discounts and reduced rates on the Norwegian railway.

What equipment should I bring?

Here is a map to show you where .

Would you like to know what the temperature is in ?